Tennis Court Construction in Wiltshire
Tennis Court Builders Wiltshire
A new tennis court can be a big decision, but having expert advice at hand can make the process a lot more straightforward. Many things have to be considered when designing a new court to ensure that it meets regulations and is also designed with longevity in mind.
Things that will need to be considered include access, potentially forming pathways, and making sure that there is suitable drainage. We will also assess if there are any other requirements such as retaining walls for banks, external lighting, fencing, and so on.
Planning out these factors at the beginning will ensure that your new court fully meets your needs and demands. Please feel free to contact us anytime so that we can arrange to carry out a site survey at a convenient time.
New Tennis Court Wiltshire
Tennis courts in the United Kingdom have been constructed for decades by various designers and builders. This has resulted in numerous designs, each with its pros and cons. Since the sport is so popular here, there is demand for courts to be built all across the country.
Tennis court construction has traditionally focused on creating durable and aesthetically pleasing facilities. In recent years, however, technology has advanced, and now there are new materials available that can contribute to shorter construction times while also increasing durability. For example, new synthetic grass options make it easier to install an attractive surface that won't need regular maintenance as traditional grass courts do.
There are several factors to consider when constructing a tennis court in the UK. The first is the location; courts need to be built on level ground to ensure proper drainage and prevent cracking. The second is the type of surface; hard surfaces like concrete or asphalt are typically used for tennis courts, but synthetic grass is an increasingly popular option.
Once the location and surface have been decided, it's time to start construction. The court will need to be excavated and then prepared for the installation of the chosen surface. Once that's complete, the netting, fencing, and other necessary equipment can be installed.
There are many factors to consider when constructing a tennis court. With careful planning and experienced guidance from professionals like ourselves, it's possible to create a beautiful, functional facility that all of your players will love.
If you're looking for an expert company to help you design and build your new tennis court, please feel free to reach out to us. Our team has years of experience in all aspects of court construction, from choosing the location to selecting the materials used for the surface. We'll work with you to ensure that your court is built exactly the way you want it, with all of the features and functionality you need. Contact us today to get started.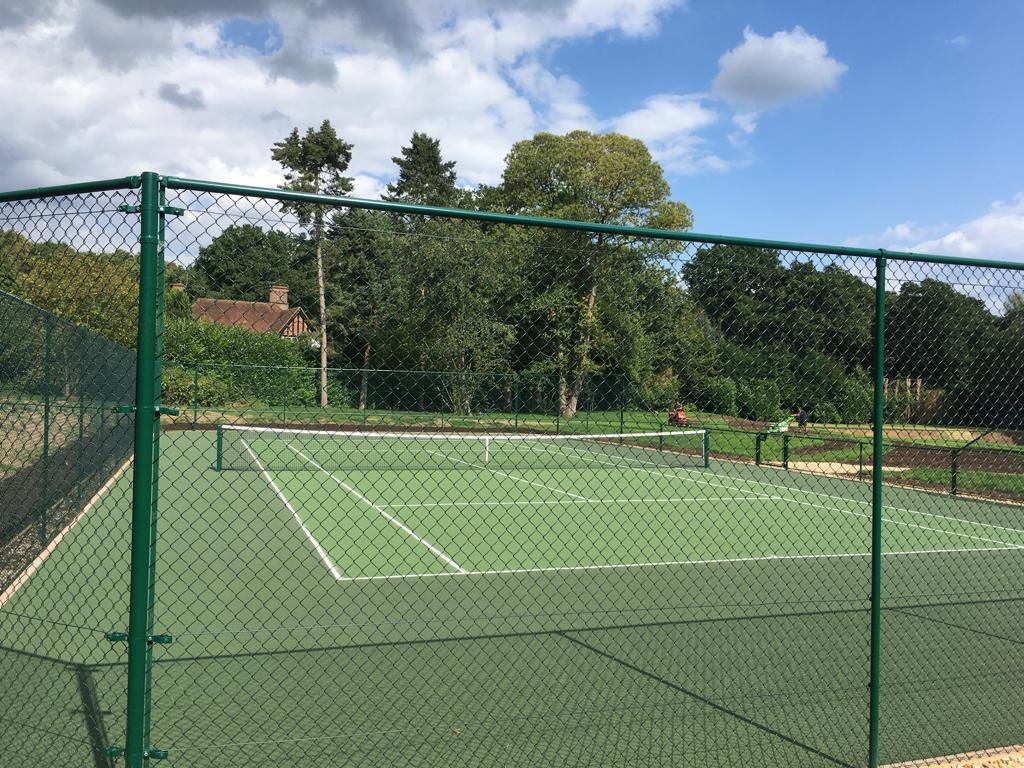 A fantastic service. My court has far exceeded my expectations, and I just wish I had it installed years ago! The quality of workmanship is second to none, and it is rare to find such skilled tradesmen.
Thanks so much, for the wonderful new court which I will enjoy for years to come.
My existing court had been showing signs of distress and I made the decision to enquire about having it resurfaced. I arranged a site visit and the moment I met Tony I instantly knew his wealth of experience was exactly what I needed. Amazing results. My family and I are so happy with the court and we really have been enjoying it. Thanks so much!
Tennis Court Contractors near me
At Tennis Court Construction Wiltshire we cover all of Wiltshire and the surrounding areas. If you found us by searching for 'Tennis Court Construction Near Me' or something similar then the chances are we cover your area.
Whatever your needs are we look forward to hearing from you soon.