Tennis Court Resurfacing in Wiltshire
Tennis Court Refurbishment Wiltshire
At Tennis Court Construction Wiltshire , our team has carried out hundreds of court refurbishments over the years. If your court has reached a point where resurfacing is necessary, then please do get in touch. Resurfacing a tennis court is a fantastic way to ensure that your game will be left uninterrupted for many years to come.
Upon carrying out a site visit, we will thoroughly assess the condition of your current court and check to ensure there are no underlying issues that need attention. We can then discuss any other requirements that you may have, such as upgrading fencing or surrounding lights, etc.
The costs associated with resurfacing a tennis court are reasonable, and the whole process can typically be completed relatively quickly.
We only use high-quality materials at Tennis Court Construction Wiltshire during court refurbishments, so you can rest assured that your tennis court will look and feel like new once again.
Our team is committed to providing top-quality service at affordable prices, so don't hesitate to contact us today for more information about our tennis court resurfacing services in Wiltshire and the surrounding areas.
Tennis Court Resurface
If you have a tennis court, it is essential to keep it in good condition. Resurfacing the court every few years will ensure that it stays level and even, providing a better playing surface for all. If your court is looking tired and worn, it may be time to consider resurfacing. Resurfacing is the process of renewing the existing surface and providing a fresh playing area.
Several different products can be used for tennis court resurfacing in the UK, such as macadam, rubber crumb, and acrylic resin. Each of these materials has pros and cons. Some will play more slowly than others, while some provide better grip and bounce. Choosing a product according to your specific needs and requirements is essential when planning your tennis court resurfacing. We can advise on all the different options available.
At Tennis Court Construction Wiltshire, we have decades of experience in resurfacing tennis courts. We only use the highest quality materials, and our team of experienced professionals carry out all work to an exact standard that you would expect. Resurfacing a court properly takes a great deal of skill and expertise. First, the existing surface must be removed. Once this has been done, the new surface can be installed. The sub-base and base layers are then compacted to create a stable foundation. Once all of these steps have been completed correctly, the new playing surface can be applied. This process is essential as it will determine how your court plays and feels for many years to come.
Get in touch with us today to learn more about our tennis court resurfacing services. We would be happy to provide you with a free quote and advice on the best option for your court.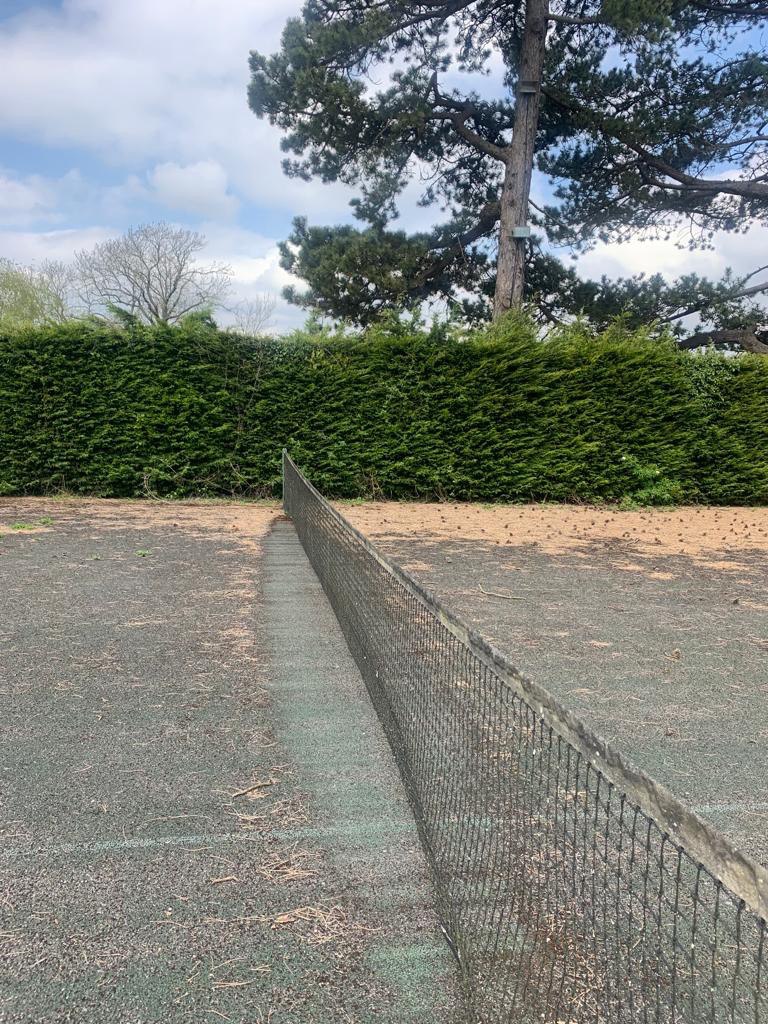 A fantastic service. My court has far exceeded my expectations, and I just wish I had it installed years ago! The quality of workmanship is second to none, and it is rare to find such skilled tradesmen.
Thanks so much, for the wonderful new court which I will enjoy for years to come.
My existing court had been showing signs of distress and I made the decision to enquire about having it resurfaced. I arranged a site visit and the moment I met Tony I instantly knew his wealth of experience was exactly what I needed. Amazing results. My family and I are so happy with the court and we really have been enjoying it. Thanks so much!
Tennis Court Resurface Near me
At Tennis Court Construction Wiltshire we cover all of Wiltshire and the surrounding areas. If you found us by searching for 'Tennis Court Resurfacing Near Me' or something similar then the chances are we cover your area.
Whatever your needs are we look forward to hearing from you soon.